If you ever thought of improving your school operations then, the school management system is a must-considered, especially in this era of digitalization.
Adopting school management systems is an excellent approach to keeping things simple and orderly. Keeping track of everything that happens in a school on one platform.
What's better: with school management automation
If you have a school management solution that automates all operations processes, then you have peace of mind.
That's why I will be introducing Qampusplus to you today.
Qampusplus automates all educational processes, such as the payment of fees, course registration, result generation, and application for accommodation. It provides administrators with an efficient and timely means of processing student needs. This is a solution that really works.
Benefits of Qampus+ to the Teacher
Saves time: It saves teachers valuable time from administrative tasks. This is achieved by automating time-consuming daily tasks such as timetable creation, attendance management, parent-teacher conversations, etc.
Ease in Result Generation: Collates all continuous assessment scores, test, and examination scores and automatically computes the overall scores and grades based on pre-defined criteria
It handles the lifetime data of students: Manage real-time data from a student's acceptance platform until the day the student departs from the school. Qampus+ collects and maintains all of the data, such as name, reg. number, and a variety of other information related to the student at the school.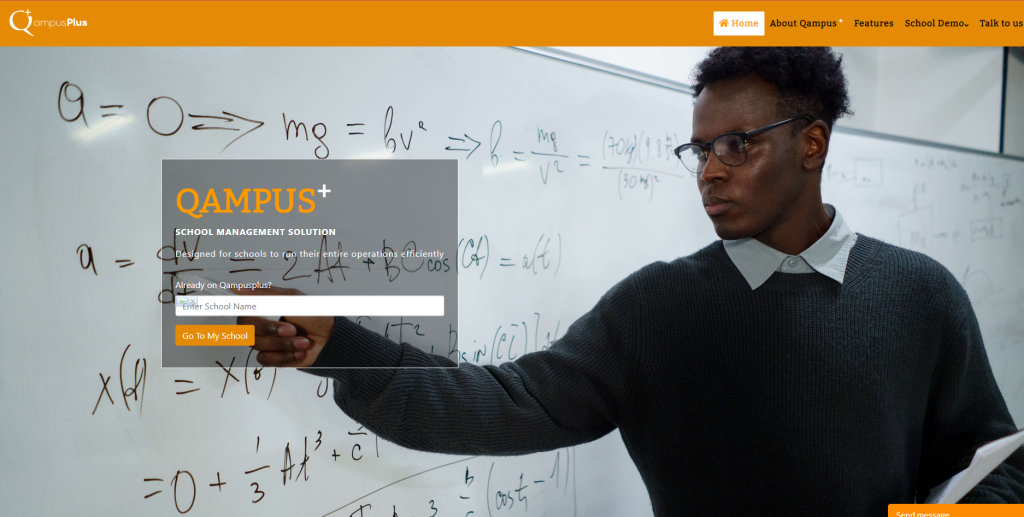 Benefits of Qampus+ to the School Management
Streamlines Staff Management: Improves the HR staff's workflow efficiency, and tracks of other staff's attendance, leaves, performance, and also salary calculation without a hassle. While focusing more on ensuring teachers' welfare, improving all staff performance, and developing better hiring decisions.
Effortless Fee Payment: At the beginning of the semester, parents or students will usually queue at the bank to get a turn to pay tuition. Luckily, the system already provides a channel through which they can pay online. This is an effective method to minimize late payment issues, thanks to the SMS feature that sends updates about fees parents have not paid.
Effective Communication: The system has a feature that connects parents, students, teachers, and school admins effortlessly. Blasting SMS, emails, or specific notification regarding the activities in the school is no longer a burden. The information about recipients is already stored in the system so you don't need to input it manually.
Parents get access to their children's performance: The school management system connects schools and parents directly. It informs the parents about their children's development and learning progress without having to wait until the end of the semester or visit the school. This information is available at any time, from the student's performance to their ongoing projects.
Final thought
Qampusplus currently has over 700 schools using the feedback is exciting to the ears, that's why you need to sign up today on qampusplus
Request a Demo by filling out the form below